Customer Testimonials
January 27, 2022
Lisa, we got home with the RV and wanted to check out the new fireplace. WOW!! We love it! Never expected it to look better than the original one. Much better. Extra features too. Great job. Thank you all. So glad we purchased the Montana from Midwest.
- Ray Gramlisch
---
January 21, 2022
We absolutely love our travel trailer. I couldn't be happier with Midwest RV. The staff was amazing and very helpful. I highly recommend them to anyone looking at purchasing an RV.
- Rhonda Wilson
---
January 20, 2022
Everyone working here is very friendly, helpful, and generally just out for your best interest. Jim helped me and it was a great experience. He's very professional but also personal in finding exactly what you're looking for to fit your needs, I'd recommend him to anyone.
- Michael Marino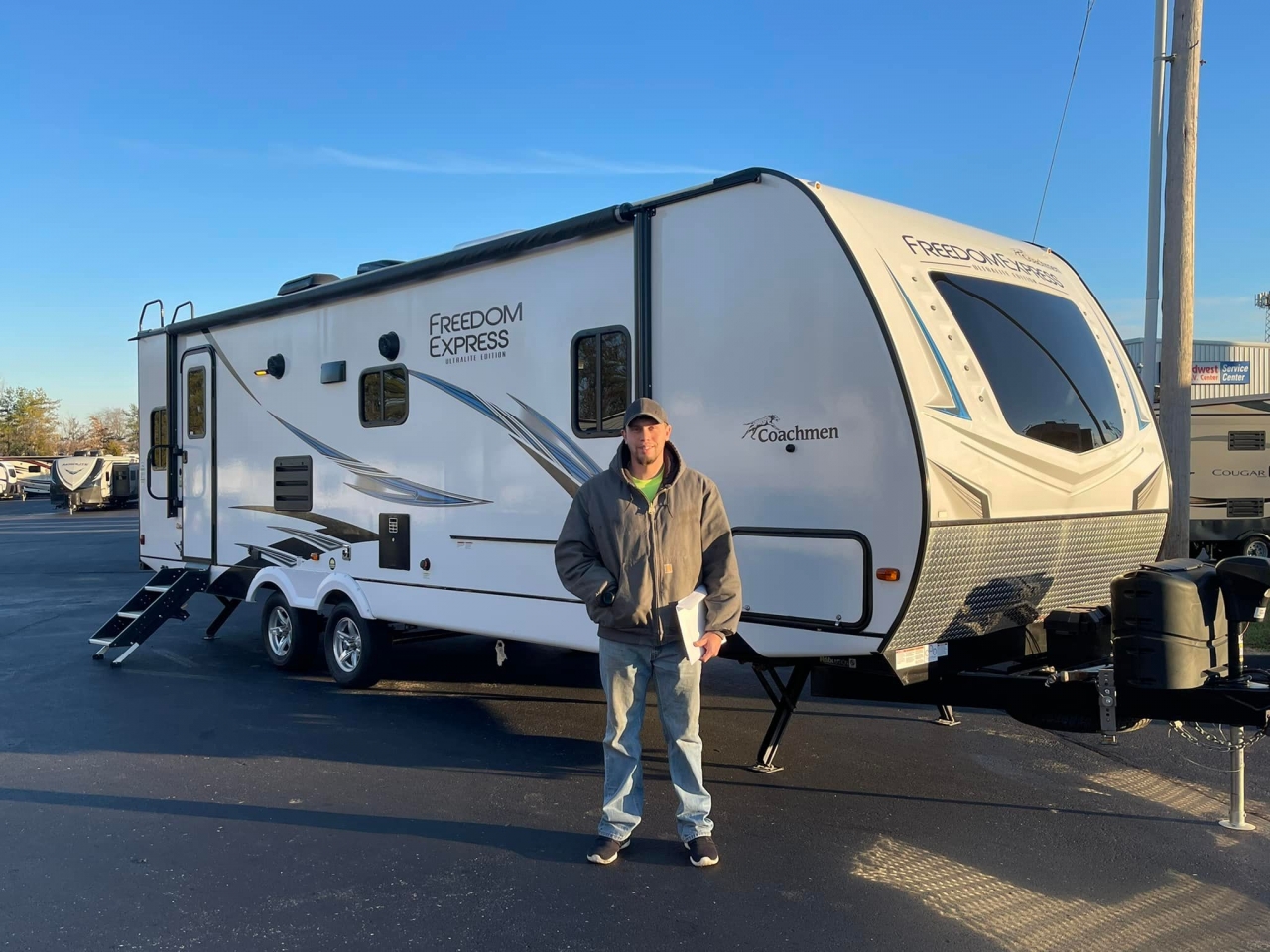 ---
January 13, 2022
Midwest was very helpful and professional in dealing with us. Their checklist they went though to familiarize us with our new travel travel was extensive and thorough. This is the second trailer we purchased from them and we will shop here first if we decide to get another.
- Kendall Waldon
---
January 8, 2022
My entire experience has been positive from the initial visit to ordering and delivery. My salesman was friendly, knowledgeable and made himself available for questions. When he didn't know the answer he asked and never tried to deceive me. I highly recommend this dealership.
- D Silvey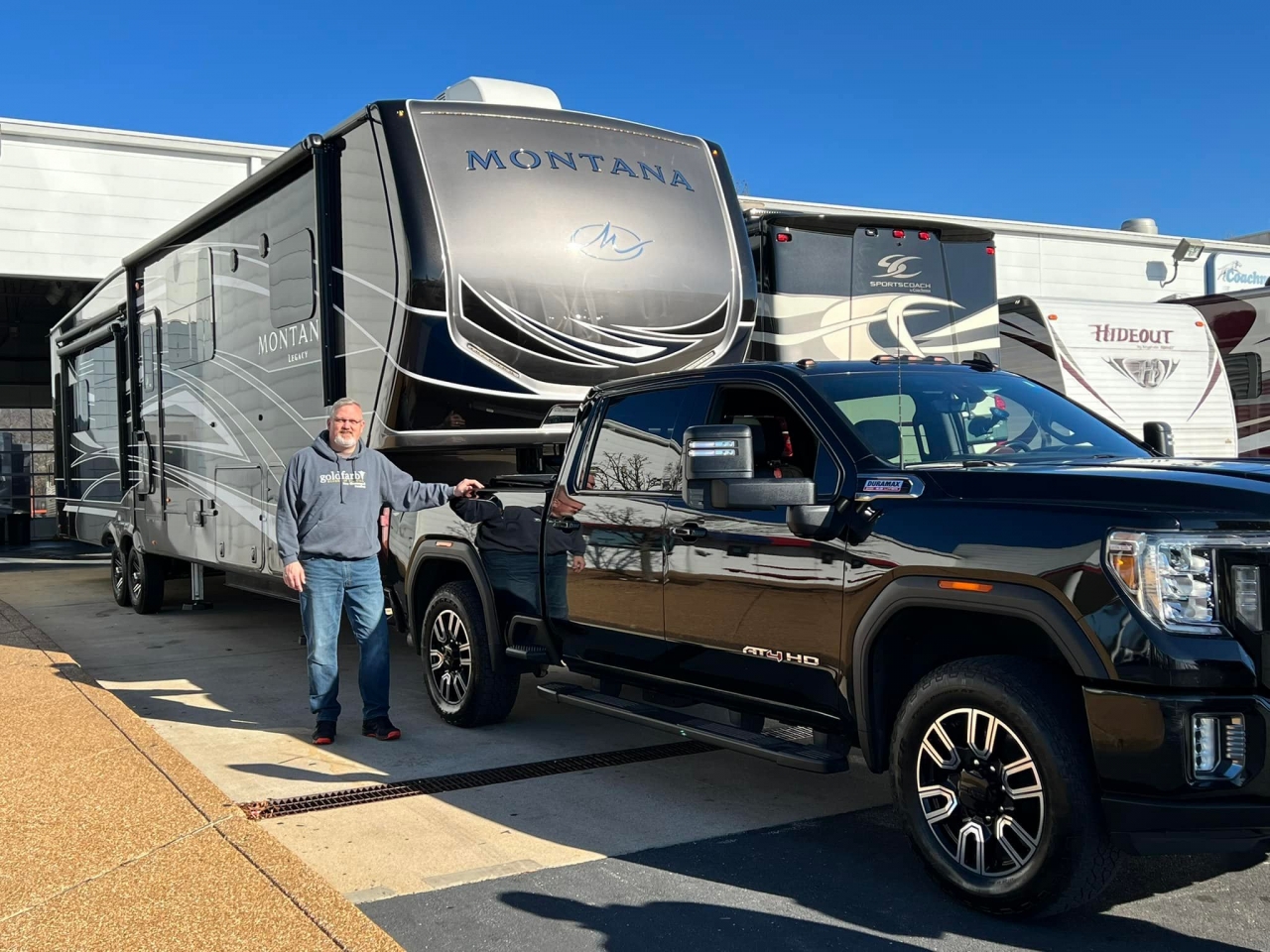 ---
December 20, 2021
Excellent experience buying our new rv travel trailer from Midwest RV Center. Would highly recommend their sales and service, especially our sales rep Jim McClung. He went out if his way to provide exceptional customer service. I do feel like we have established a relationship with Midwest RV that will last.
- Greg G.
---
December 3, 2021
Bought our first RV here and overall experience so far has been great! No high pressure sales tactics which allowed us the time we needed to make our decision. Once we purchased, they did a very thorough walk through with us explaining how everything works and answered all of our questions. Very pleased so far with our first RV buying experience.
- Kerri Egner
---
December 2, 2021
Jim McClung was very nice and enjoyable to work with. Very helpful. Debbie and Collin were also very helpful and courteous in explaining things and answering our questions. Overall it was an enjoyable and pleasant experience.
- Gary Knecht
---
December 2, 2021
We had a great experience with Midwest RV Center. Had a few issues, and they fixed them right away. Quick response. Love the trailer.
- Dianne Hall
---
December 2, 2021
Ray was great! He listened to what we were looking for, and how much we wanted to spend.
- JK Colson
---
November 30, 2021
This is the best place to look and buy an RV from. My wife and I have been looking for 4 years and found this company to be the most knowledgeable with outstanding customer service in all departments from the finance to the parts. They also always call back to make sure that you are satisfied with response on any concerns. My sales rep is Rey Poston who was a pleasure to work with. I say this because I have been in sales for over 30 years and usually find sales people who are either disinterested or unresponsive to concerns. I recommend Rey he is professional knowledgeable great at his position.
- David Flick
---
November 9, 2021
Very knowledgeable staff and Jim our salesman wasn't pushy and helped us pick the best camper to fit our needs and budget!
- Steve Crossin
---
November 1, 2021
Love our new Keystone Cougar fifth wheel from Midwest RV Center! This is our second camper we've bought from here and wouldn't go anywhere else! Thanks to our salesman Kyle and kudos to Debbie in the finance dept. for a awesome experience!
- Robert Dearing
---
October 31, 2021
Recently traded for a bigger camper and had to have it delivered 2 1/2 hours away. Austin who delivered it was kind and courteous. He was very professional and was exceptional at backing our camper into its slip and making sure everything was ok before he left.
- John K.
---
October 30, 2021
A great place to shop, and we had a very knowledgeable salesman. We hope to work with them on our future purchases.????
- Christy Hatfield
---
October 29, 2021
Enjoyed the experience very much
- Patrick Shaughnessy
---
October 28, 2021
Went in for parts, they were very helpful from the time I arrived until I left. Will return if needing anything else
- Eddie Cadwalader
---
October 21, 2021
Very Knowledgeable and professional staff. Each person took the time and were so patient with us. They continue to support us with our new purchase.
- Sherry Jarnagin
---
October 14, 2021
No pressure or pushy sales people. Bought a camper and the walk through before the final paperwork was excellent. Technician took his time and made sure we were familiarized with how everything worked. GREAT EXPERIENCE!!
- Gary
---
October 14, 2021
Very helpful staff and good selection of items in the shop. Sure beats going all the way to st Charles
- Eric Schoenberg
---
October 12, 2021
Very friendly and experienced sales and service staff.
- Bill Province
---
October 9, 2021
People very friendly and helpful.
- Robert Wanager
---
October 7, 2021
We just bought from midwest and had a great experience with Rey in sales and Collin in the tech dept!
- Jarred Engelbach
---
October 4, 2021
What great people work here. Everyone was so super nice. They have a nice selection of rvs
- Diane Schmucker
---
October 1, 2021
My wife and I had the pleasure to work with Dean at Midwest RV. He was very polite and knowledgeable when showing us the different models. We told him our budget and what we were looking for and he found us the perfect trailer! Everyone made the buying process simple and painless. If you need a RV go see Dean at Midwest
- Nate
---
September 30, 2021
Been doing business at Midwest for years. It's a pleasant atmosphere when you walk through the doors. Sales folks help but don't 'pester'. Office staff are all friendly … especially the wonderful lady in finance! Thank you Midwest RV
- Bill & Brenda Perry
---
September 30, 2021
Midwest RV Center made the buying a breeze. They were very good at making sure we understood how to use our new RV. We were aloud to take all the time we wanted and asked all the questions we had. Good experience!
- Debbie Weidner
---
September 29, 2021
We had a good experience with Midwest RV including their sales team and service dept. I would recommend them to anyone looking for an RV.
- Shirley Wehrmeyer
---
September 19, 2021
Straight forward and no hidden pricing. This is our third RV that we bought from Mid West, Vince was our sales rep and he was very knowledgeable about what we were looking for. He was able to stay within our budget and he was not pushing us to buy more then what we can afford. The staff was very professional and friendly. Tyler who showed us around the RV knew his stuff, and I think you will find that most everyone their have gone RVing at some point and time in their life. Unlike some places where they are just sales reps selling you something they know nothing about. Kinda like buying a car from someone that doesn't drive. I have to mentioned Debbie, this lady always has a smile on her face, and it shows that she loves her job.
- Walt Ehrhard
---
September 17, 2021
Great sales and service. 5 stars from beginning to end and after. Each time I've taken my camper back for service. There service department ad gone above and beyond to get the job done. Will buy another camper from them in the future.
- Daniel Barrios
---
September 16, 2021
Everything was quick and easy and we got exactly what we wanted. There was a few hiccups in the process but they were all easily fixed. We went to other centers and we're most impressed with Midwest. Jason and Debbie made it a super smooth process I even think we had fun ????.
- Nathan Toal
---
September 11, 2021
Recently we purchased a Coachmen Freelander 27QB from Midwest R.V. Center. Being "first time" owners of any type of RV, we entered into the process with excitement yet with alot of ANXIETY! From the initial contact with the Sales Manager (*************************) we were met with an outstanding group of employees, ********************* was both our sales person and finance Guru. ****** couldn't have been nicer and exhibited a genuine interest in us. She really is "outstanding"! Our assigned technician for the overall motorhome checkout, walk-thru, and education was *************************. His patience and awareness of us being "first timers" contributed to our positive feelings about Midwest R.V. and although still anxious, the anxiety has been significantly lessened. We know, as we were told multiple times, that if any questions arise... they are just a phone call away. We can honestly say that based on our experience with Midwest R.V. Center, we have a partner committed to our RV success. Now... that is special! Our thanks to all at Midwest R.V. Center
- Tom Kraft
---
August 29, 2021
My Wife and I have purchased several units from MWRV. Recently they helped us out with a service warranty situation. Very much appreciated the outcome and professionalism of the team! We will continue to keep them at the top of our list for future parts, service, and sales.
- Kevin and Kathy Miller
---
August 22, 2021
Buying our camper through Midwest RV was an easy process. We did have a couple of issues with our camper functioning properly but Midwest took it right in and fixed the situation promptly. All of the employees were friendly, welcoming, and knowledgeable.
- Lisa Murphy
---
August 21, 2021
We just bought our 13th camper from Midwest RV, a 2021 Keystone Cougar 29FKD and we love it!!

We have definitely developed a relationship with the team at Midwest, especially Jim McClung, Debbie and Lisa. Their level of customer service is spot-on and that isn't the norm these days. The owner, Bob is very personable and doesn't forget a face.

Really, everyone we've worked with, whether it was in parts, service or sales, the team at Midwest RV is top notch! That's why we keep returning to them whenever we're ready to sell or upgrade.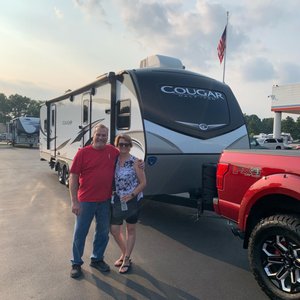 - Pammie H.
---
August 20, 2021
We have bought 2 RV'S from Mid West, and this is our third. Vince Moses was the sales rep and very knowledgeable about the product. We told him this was going to be our last and he gave several suggestions on what to look for to have a easy and enjoyable time. Tyler was great showing us the RV and making sure we understood everything. Debbie always has a smile on her face and willing to help in anyway to make your visit a pleasure. If you need parts they are well stocked, and Dave is very knowledgeable about what they have on hand.
- Walt E.
---
August 12, 2021
Great customer service. We went there to get propane in RV.
- Cathy Thiemann
---
August 7, 2021
Debbie is awesome and very helpful with all your needs.
- David Phoenix
---
August 1, 2021
We recently bought a 3231CK in June from Midwest RV. We ordered our so it took some time but they were in constant contact while waiting for the delivery. We have only had it a few months, we have used it often. very functional kitchen, comfortable seating and roomy (even with a large dog). We would highly recommend the Keystone Montana and buying it from Midwest RV
- Scott McLain
---
July 26, 2021
My husband and I purchased a 2021 Coachman Catalina from Midwest RV. We LOVE the newest addition to our family. The staff was friendly and welcoming.
- Claudia Wisecarver
---
July 25, 2021
The man that works the store/products area was super helpful with information.
- James White
---
July 23, 2021
Ray was a very pleasant representative to work with
- Georges Paddock
---
July 21, 2021
Jim, Jeff, Debbie and Collin were all great! They have been prompt and willing to address any issues that have come up...Thanks!
- Matt Siems
---
July 20, 2021
We purchased a 2019 Coachman Apex 213RDS and we are looking forward to our first trip over labor day weekend. We would like to thank Bradley and his team for helping us find the right camper for our family.
- Loretta M.
---
July 20, 2021
Great staff. Very helpful. And I only went in for parts.
- Bruce Englerth
---
July 16, 2021
Dean was terrific! He answered all of my questions or found answers for me and Jason and Dave and the rest of the crew did a great job helping me with parts and installation and the rest of the crew was great cleaning up the motorhome and getting it ready for me to pick up and then installed a few more last-minute items for me as well. Debbie was wonderful getting all the paperwork done and closing the deal too. Everything went smooth as silk! It was an awesome experience! Thank you to the Midwest RV Team! Thank you all very much!!!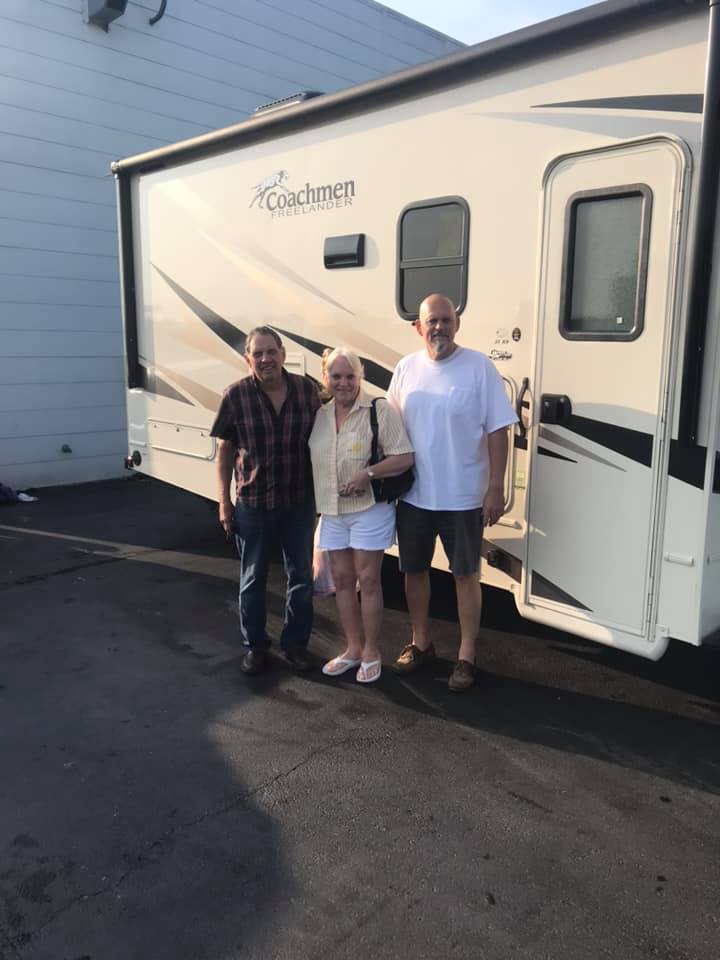 - Troy Cardona
---
July 13, 2021
Buying a RV from Midwest RV center was quick and easy. I would recommend Midwest to everyone.
- Tim Quigley
---
July 10, 2021
Great place for all my RV needs.
- Bryan Carlyon
---
July 8, 2021
Our first RV however not our last purchase from Midwest. Our Salesman Rey, Collen our techy guy and Debbie in the finance were our team of experts. They made this purchase so smooth and easy and met all our travel needs...We love you guys and will not be our last purchase for sure.
- Erica Lucas
---
July 2, 2021
We had just stopped to "look" at travel trailers to see what they had available in what we were looking for, so happy we did. We ended up with finding exactly what we were looking for! Dean our salesman was good. He asked great questions to understand our wants and needs were. He showed us a couple of different options and they fit us perfectly! This may sound crazy but the highlight of the experience (besides driving away with our new RV) was Ms Debbie in Finance she was AMAZING!! We then finished our walk through with Tyler who had fixed all of our concerns forthwith! I highly recommend stopping by if your "looking" for a new RV! Thanks to everyone for their help and we look forward to our adventures ahead!
- Doc Thull
---
July 2, 2021
Really great experience. The team is knowledgeable and helpful. If I ever buy another RV, this will be the first place I call. :)
- Catherine Niswonger
---
June 30, 2021
Purchased out 1st camper trailer May 12th 2021. After looking at Midwest in February we checked out at all the other RV dealers in the area, we came back to purchase from MidWest, not only was the Freedom Express our favorite RV we looked at, but the non pressure sales staff and good stock, even in the RV shortage of 202, could not be matched elsewhere. Everyone we interacted with was very nice, the store staff, sales, finance department and technicians. The only feedback was that on our walk through I wish the technician would of had us return demonstrate some if the things he taught us, like hooking everything up. We have called with some questions in out first couple trips and everyone has been very responsive and helpful.
- Shanna Witges
---
June 29, 2021
We were introduced to Midwest RV at the 2021 April RV show. We looked at multiple dealer demo units that day, but couldn't find a floor plan that we wanted at our price point. Midwest RV had not just 1, but 2 different Aspen Trail bunkhouse models that met our requirements. Our sales rep, Vince Moses, was very friendly, answered all our questions, was very patient, but not pushy for the sale. We made a fair, hassle free, deal that day. Fast forward a few weeks…we were getting impatient about delivery of our new unit, I think we called twice a week for nearly a month. Vince never grew weary, and explained many of the supply chain challenges in the industry overall this season. Finally, the day arrived and we came in to sign the paperwork -the financing was simple and fast, PDI process went smoothly, and we were able to take our unit camping that weekend. We did uncover a few issues with our camper, but service got us in as quickly as possible and took care of everything under warranty, no fuss. Also, parts dept hooked us up with some missing adapters that we needed. In summary, the customer service has been fantastic! There were challenges along the way with delivery and maintenance, but those things happen and were out of Midwest RV's control - the important thing is that from pre-sale to service, they do right by the customer. I would need a very good reason to shop elsewhere on my next RV purchase.
- Vincent Van Sant
---
June 24, 2021
Dean was very helpful and we found exactly what we wanted! The purchasing process was easy and no pressure.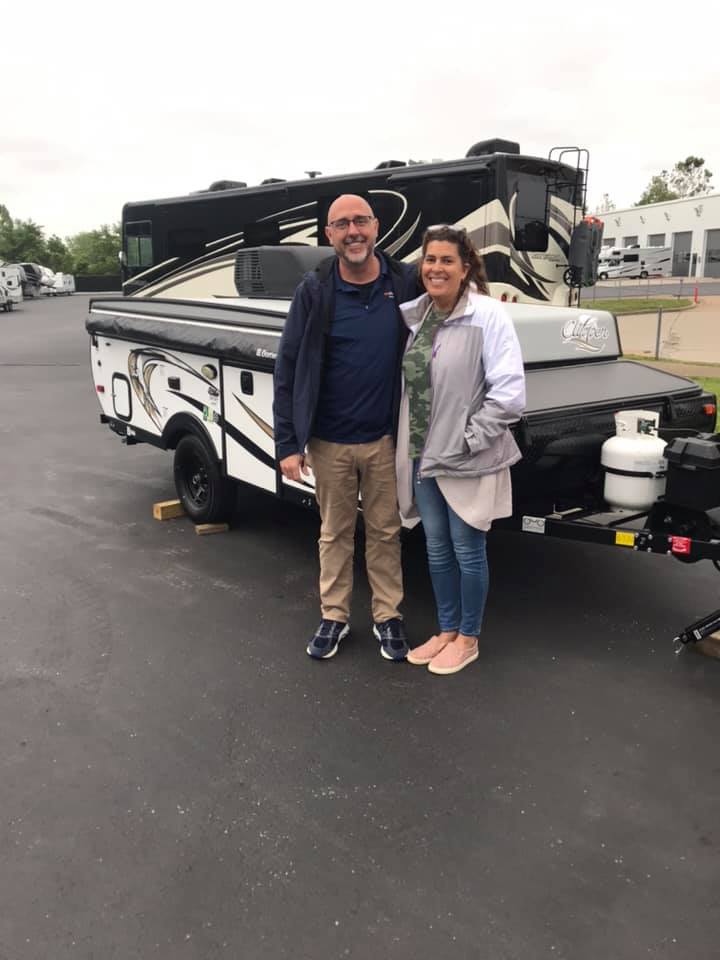 - David Lange
---
June 18, 2021
Good experience. I didn't buy my RV there yet they were very helpful getting me the accessories I needed quickly
- Brian Haefner
---
June 14, 2021
We had looked at travel trailers at another dealer, and actually were about to sign on the dotted line when we just had a feeling we needed to look elsewhere. SO GLAD WE DID! We ended up with a bigger trailer, more for our money, and EXCELLENT service. Mark the sales person was great. He asked good questions to understand our wants and needs. He showed us a couple of different options and they fit us perfectly! Once we said yes and worked with Ms Debra in Finance and had our walk through with Colin we feel like we are a part of the MWRV family! Thanks to everyone for their help and we look forward to our adventures ahead!
- Beth Neuwirth
---
June 14, 2021
Great experience with the purchase of our first hard-cover camper. We had an old pop-up for a long time, so we only had limited experience with the set-up and gear. Rey was awesome and extremely helpful with everything and the rest of the crew spent a ton of time explaining everything to us on the day of pick-up. Definitely recommend.
- Elke Overton
---
June 9, 2021
The staff and management are always polite, helpful, and efficient. They always work with you on price, which makes RV living so much easier. Thank you
- Rick Radford
---
June 3, 2021
Has a wide range of inventory, staff painted me in the right direction. I went in for a pop up camper part. They didn't hav eithe part in stock but took the time to try to find it. Instead of selling me a part that might work the employee went out of his way to find me the correct part online. Thats customer satisfaction if u ask me!
- Matt Schlemmer
---
June 3, 2021
Was a pleasurable experience both sales and service and up to this point the Customer Service has been great on responding to any issues we are finding out during our first few weeks as new owners. We go in July to get that punch list taken care of. Lets hope this continues!
- George Jones
---
June 2, 2021
We stopped by for a part for our old trailers water heater and ended up purchasing a 2021 Montana HC 385BR fifth wheel. Everyone was great to work with - Kyle is a great salesman, not pushy, respects what we were looking for and follows up on requests. Debbie in finance is an awesome person - everyone dreads going into finance office - not with her, i would be first in line to see her again!! Tyler did our walk through and knew this trailer inside and out !!! Wish we could take him along on our first trip!!! GREAT JOB MIDWEST RV - KEEP IT UP!!
- Leslie Atchley
---
May 31, 2021
Our first camping trip of the season going to hookup the camper and realized one of the hitch spring pins for the the ez lift sway bars was missing. We were heading out of town to meet up with friends and called our local places and other places along the way, and these guys were the only ones I found with the part we needed. They were awesome and answered all my questions quickly, let me send pictures of our set up to make sure they had the correct part before we drove out of our way, and even made sure our friends picked the correct part up for us when we knew we weren't going to get there in time. Fully recommend and we be stopping there if we ever need anything next time we are in town.
- Shauncie Shaw
---
May 30, 2021
Everyone were very helpful from the time we drove into their parking lot until we left with our first RV. It was a great experience!
- Madonna T.
---
May 25, 2021
We were quite satisfied with the experience and would highly recommend others to this dealer!
- Jack
---
May 25, 2021
Rey was quite helpful in finding us the camper that fit our needs, as well as, helping us transfer our belongings from our trade in to the new camper.
- Julie Johns
---
May 25, 2021
We are pleased with Midwest rv! Enjoying our new camper...so far, so good!
- Joyce Laiben
---
May 21, 2021
Great experience, the sales people are knowledgeable and professional. We previously went to Camping World and had a horrible experience! They made the buying process smooth and easy at Midwest RV. They were great to do business with, I would recommend.
- Season Reiler
---
May 13, 2021
Beyond happy with the great experience buying my first camper at Midwest RV center. Have been to other camper dealers and was never treated as good as I was at midwest. My sales guy Rey made the process painless. I'm not one to be comfortable with making big purchases like this but everyone there was truly amazing and made it the best decision I ever made. Plan on keeping this camper for a while but when it comes time to upgrade to a bigger one there is no doubt I'm going to Midwest RV center.
- Matt Melugin
---
May 10, 2021
Vince was very helpful. Answered all my questions and gave me some literature. No pressure sales.
- Randy Athanas
---
May 8, 2021
We purchased a used travel trailer from Midwest RV a little over a month ago. We have enjoyed just about every weekend camping in it. Mark our salesman was outstanding. Everyone throughout the purchase was amazing. They even sent a personal package with some coffee mugs and cookies proving that they really do appreciate your business with them. If you're looking for a new or used unit, definitely go see them. Thanks for the memories we're about to embark on. Happy Camping y'all. We'll see ya down the road.
- Ray DuFaux
---
May 7, 2021
Friendly, informative, great selection of trailers, and RVs.
- Jennifer Dreyer
---
May 4, 2021
Buying from Midwest RV was one of the best experiences I have ever had purchasing from a dealer. The customer service from management, the sales team, the finance manager, the parts department, to the service department was the best I have ever had. I would highly recommend using Midwest RV for all of your new purchases to your parts purchases they are very family oriented and customer focused. Thanks for a great experience I look forward to continued visits.

- Kenny Mulder
---
May 2, 2021
We had a very good experience at Midwest RV Center & look forward to using it RV soon. Mark, our sales man was very patient with us & showed us whatever we asked you see. Debbie in finance was fantastic! Dave in parts was so helpful. I highly recommend buying your RV there!
- Michele Gunnett
---
April 20, 2021
We traded in our 2017 XLR Forest River Toy Hauler and purchased a 2021 Coachmen Freelander Class C Motorhome. We love how many there were to choose from and found this was the perfect fit for our family. The finance staff was patient with us in finding our title and it was a smooth transaction. Definitely would purchase another RV from them and recommend anyone to Midwest RV.
- Sandra Smallwood
---
April 18, 2021
Great Experience Dean Voigt was great for us. He had a lot to offer in means of keeping us updated about our purchase, 5th wheel options, and could answer any questions we asked. All in all our whole experience with Midwest Rv Center couldnt have been better.
- Steve Wahlig
---
April 16, 2021
We purchased a 2021 Coachmen Apex 265RBSS and absolutely love it. We definitely rate Midwest RV Center a five star plus dealer. Everyone was very super friendly and we would highly recommend to everyone we know. Thank you Mark, our great salesman and to Debbie, our wonderful finance manger. Super duper group of folks!!!
- Marian McDonald
---
April 16, 2021
Great service and great staff!! Love that we chose Midwest when we bought our camper!!
- Kym Harris
---
April 3, 2021
Great experience
- Greg Lauer
---
April 2, 2021
This was our second travel trailer purchase with Midwest RV Center and they never disappoint. Every person you meet is very inviting/informative and never pushy. Dean our salesperson was able to tell us so many things about our new camper that we weren't aware of even with being previous camper owners. We love our newest camper and will continue purchasing through Midwest RV Center in the future.
- Darlene Schmitz
---
April 1, 2021
Fast and easy process, everyone was great.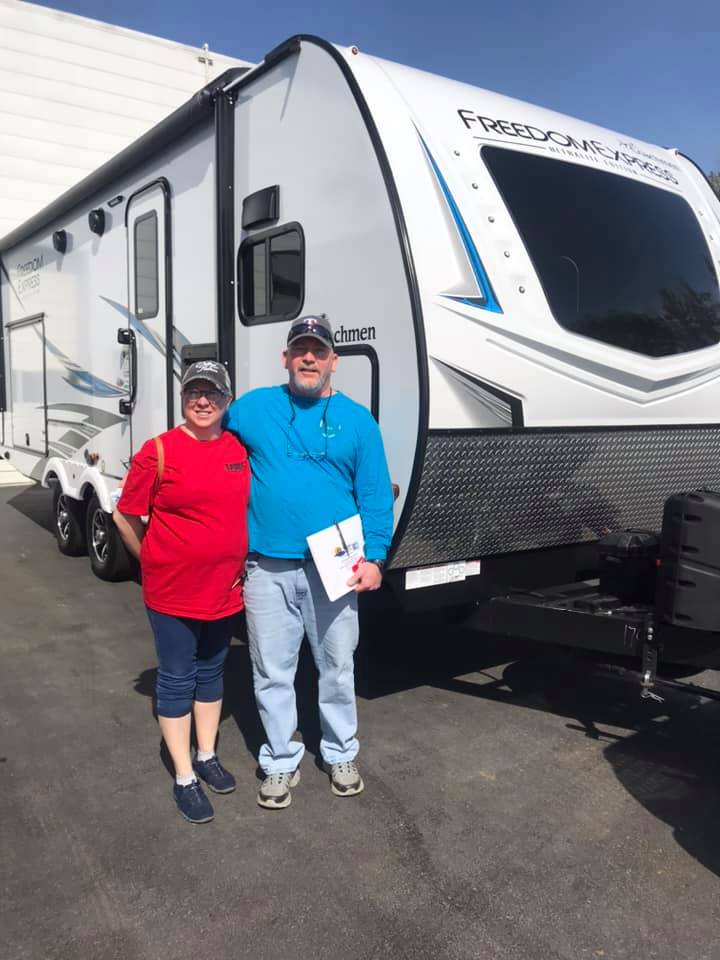 - John Foster
---
March 31, 2021
Really nice straight forward place if your coming to browse or buy they just want to give you all the info you need, even show you around in the rain knowing your not buying that day. left with no pressure and an arm full of brochures, was told to come back any time when I've had some time to think about our needs and options.
- Kevin Donovan